Fresh produce sales growth slowed significantly at the end of March after two record-breaking weeks earlier in the month due to stock-up buying because of the coronavirus COVID-19.
Dollar sales for the week ending March 29 were up 8.1% compared to the same week in 2019, according to IRI. The two previous weeks saw growth of 34.5% and 29.7%, respectively.
Shoppers have been distributing their produce dollar between fresh, shelf-stable and frozen. For the week ending March 29, the split was 76% fresh, 14% shelf-stable and 10% frozen.
"We see fundamentally different consumer engagement with produce amid COVID-19," Joe Watson, vice president of member engagement for the eastern U.S. for the Produce Marketing Association, said in a news release. "This is why fresh produce never saw the kind of surge in sales that we've seen in fresh meat or other perimeter departments.
"At this point, many shoppers are looking to minimize trips," Watson said. "It's important to encourage fresh produce consumption by providing tips about items for now and items with longer shelf-life to have ample fresh fruit and vegetables for the entire week."
In addition to revealing less growth for produce than previous weeks, the most recent IRI numbers show a growing gap between dollar sales growth and volume sales growth.

"The all-important question is how much of a role price played in all this, with the heavily reduced foodservice demand providing ample produce supply," Anne-Marie Roerink, principal of 210 Analytics, said in the release.
"At the onset of coronavirus in the U.S., dollar and volume sales were relatively close together for total produce, at +0.4% for dollars and +1.3% in volume," Roerink said. "However, particularly the week ending March 22, volume sales far exceeded dollar sales, creating a nine-point gap, which would indicate deflation setting in at retail for some areas."
The gap was most pronounced for fresh vegetables, which saw a 15.2% increase in dollar sales compared to the same week in 2019 and a 25.8% surge in volume sales.
Watson called for retailers to support produce growers as much as possible because of the collapse of foodservice as an outlet for their products.
"The produce industry is a resilient business, but farmers and producers of fresh fruits and vegetables need our support now more than ever as many restaurants are doing a fraction of their normal volume and this is having downward pressure on prices," Watson said in the release.
"We are actively working to connect supply with shift in demand from foodservice to food retailing and fresh to frozen and canned," Watson said.
Jonna Parker, team lead in fresh for IRI, mentioned in the release that onions, carrots and lemons were among the items for which there was much higher volume growth than dollar growth, and she also attributed that difference to the dearth of foodservice demand.
The top produce items for dollar growth the week ending March 29 were potatoes (65%), onions (31%), tomatoes (15%), oranges (43%), avocados (18%), berries (4%), peppers (12%), carrots (20%), bananas (8%) and lemons (33%), according to IRI.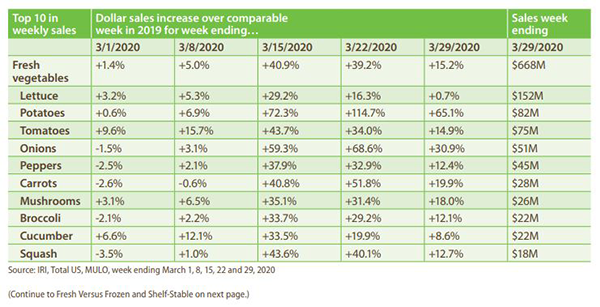 Parker said in the release that items with longer shelf life, items that cook well, and items that are easy snacks have seen increasing demand in recent weeks.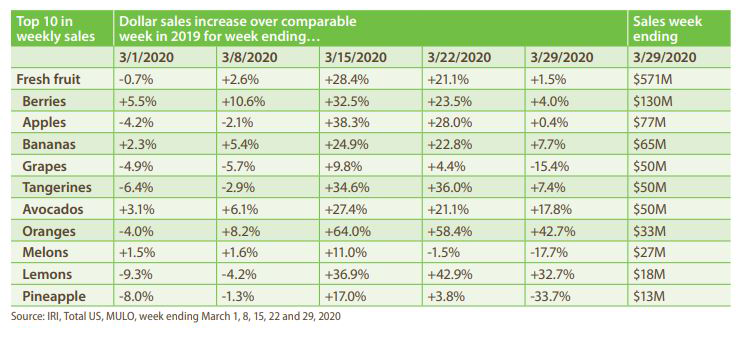 Related
Talking promotions, in-store traffic flow, outlook amid COVID-19
Eight grower-shippers detail COVID-19 effect on business, supplies
Steve Lutz talks produce demand, changes ahead
For more coronavirus coverage, check out our landing page on the topic here. To provide input on how the virus is affecting your business, take The Packer's survey.