(Charts courtesy IRI and 210 Analytics)
IRI reports that, for the week ending March 22, fresh produce sales were up 29.7%, frozen up 111.4% and shelf-stable up 158.1% amid the coronavirus COVID-19 pandemic.
Fresh fruit sales grew 21.1%, while fresh vegetable sales grew 39.2%, both compared to numbers for the same week in 2019, according to a news release. The week ending March 22 was the second week of significantly higher sales for fresh produce; gains the previous week were 27.3% for fresh fruit and 40.6% for fresh vegetables.
While people are buying more frozen and shelf-stable produce than they usually do, the majority of the produce spend is still happening in produce departments. In 2019 overall, fresh had 84% of total-store produce sales, while shelf-stable had 10% and frozen 6%. The week ending March 22 this year, fresh had 70%, shelf-stable had 19% and frozen had 11%, per IRI.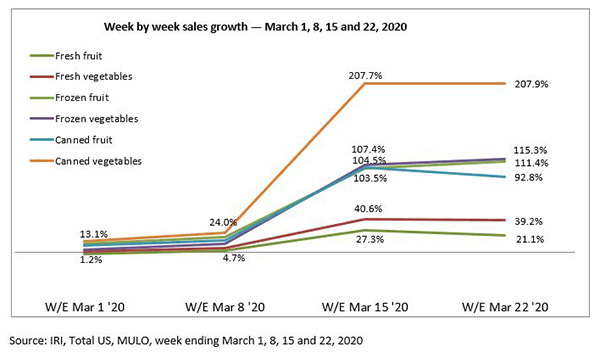 "Fresh produce generates the bulk of total produce sales during regular times, and it still does today," Jonna Parker, team lead for fresh for IRI, said in the release. "The size of the pie is one of the reasons why fresh produce growth percentages are lower than that of frozen and shelf-stable. However, consumers remained in a stock-up mindset the week of March 22, and that drove high interest in frozen and shelf-stable fruit and vegetables."
Sales of canned fruit, frozen fruit and frozen vegetables all roughly doubled the week ending March 22, and canned vegetable sales were up more than 200%.
On the fresh side, potatoes, berries and onions gained the most in absolute dollar sales, with an additional $61 million, $28 million and $27 million, respectively. Other categories with major increases were lettuce, apples, tomatoes, tangerines, bananas, oranges and carrots.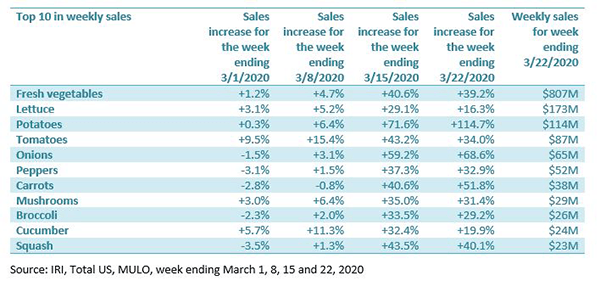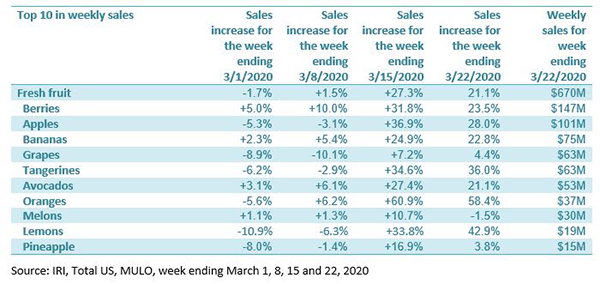 "Our warehouse got wiped out after the first big wave of panic buying," Mike Kamphaus, president and CEO of Peirone Produce, said in the release. "While the huge sales took the headlines, the positive attitude of our retail customers and our vendor partners is really the most impressive backstory. They employed lots of creative solutions to get product back into our supply chain and out to our customers in record time.
"I would also call out the efforts of my warehouse workforce, many of which worked double shifts, and our drivers, who ran lots of extra routes to keep our retail customers in business," Kamphaus said. "Forty years of being in business and I am still awed by the resilience and resourcefulness of our people."
Parker said IRI has found that, among those shoppers who are stocking up, the goal is a two-week supply. However, with schools closed, most activities canceled, and restaurants shut down as far as dine-in service, many households are cooking more meals at home and having snacks at home, so demand is increasing even aside from 'panic buying.'
"We found that among households with kids, 69% have kids staying home from school or daycares versus 38% the week prior, and 47% are doing fewer activities and sports," Parker said in the release.
Anne-Marie Roerink, principal of 210 Analytics, described the potential effects of those changes.
"Consider the fact that universities and schools are closed, which means many students moved back home," Roerink wrote in the release. "In Florida, for instance, 350,000 students live on campus. Consider their added three meals per day plus snacks at home — that is one million more meals consumed at home per day, for Florida students alone.
"Next, consider the people working from home and all the elementary and high school students being at home," Roerink wrote. "That means many more breakfast, snack and lunch occasions that moved to at-home. Also consider the fact that all sports and evening activities have been canceled, so no more 'scramble dinners' to be out the door in 10 minutes, but time to create an actual home-cooked dinner."
While retail produce is benefiting from increased sales in the midst of the coronavirus crisis, floral has been on an opposite trajectory, with sales down 14.6% for the week ending March 15 and sales down 35.1% for the week ending March 22.
For more coverage of the effects of COVID-19 on the produce industry, check out all the latest updates at our landing page here.