Photo by Ashley Nickle
Supermarket sales of organic fruits and vegetables seem to be trending upward, but the role organics play can vary from place to place.
In Highland Park, Ill., not far from Chicago, the five Sunset Foods Inc. stores typically carry more than 200 organic items, said Vince Mastromauro, director of produce.
He estimated that the organic category now accounts for 8% to 10% of produce offerings — double what it was five years ago.
Mainstream items, like bagged salads; romaine, red- and green-leaf lettuces; kale; and spinach are the top selling vegetables.
Apples, summer fruits and citrus sell well in the fruit category, he said.
Sales of organic berries, grapes and lettuces have picked up over the past few years, possibly because of food safety concerns.
"If a customer is going to buy organic, they're going to go after the items that you have to eat whole, that you can't peel (the skin) away," he said.
Mastromauro features four organic items in his produce ad every week — usually two seasonal fruit items and two seasonal vegetables.
"I think that's what has helped us get to that higher plateau and increase our sales in the organic category," he said.
If he spots a good deal on his price list at the beginning of the week, he might put an organic product on a temporary in-store price reduction.
When the price drops, sales can increase two to three times over a normal week, he said.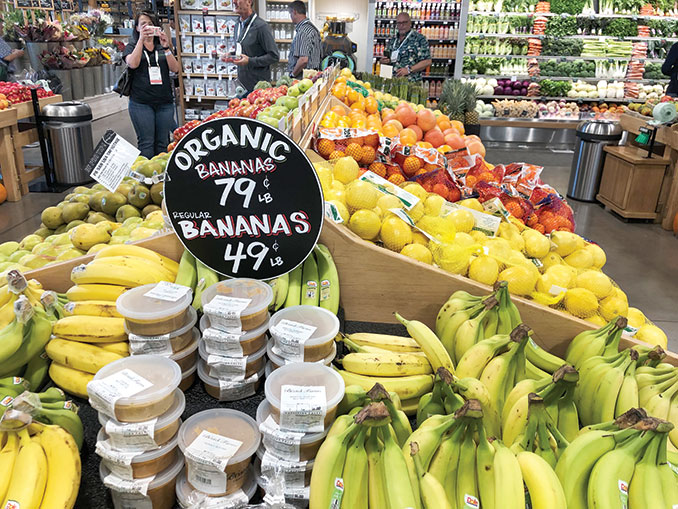 The Apple Valley Market in Berrien Springs, Mich., features 40-50 organic stock-keeping units in the produce department, said Brandon Easton, produce and grocery manager.
That's at least 10% of the store's produce.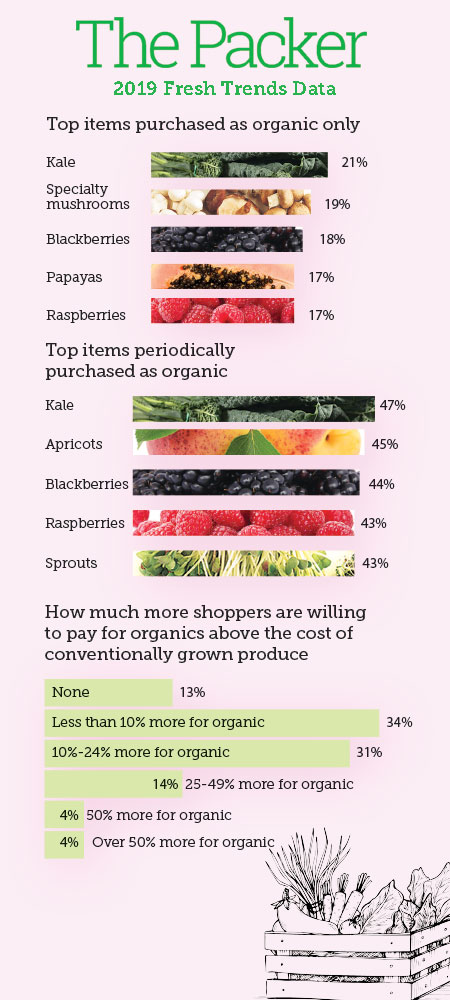 Bananas, gala apples and avocados are the top-selling organic items, along with salad mixes, which Easton said was a bit of a surprise.
"Nobody thought (organic salad mixes) were going to sell," he said. "Now, they're probably one of the top things, if not the top thing."
Apple Valley Market features one to five organic items on ad each week.
Felton's Meat & Produce, Plant City, Fla., has a way to go to catch up with the organic programs at some other supermarkets.
The store has as few as three or four organic items but rarely more than a dozen, said produce manager Ron Marshall.
"It's slowly changing, but not so that it's cost effective for the store," he said.
Organic bananas, a couple of varieties of apples, vine-ripe tomatoes and packs of peppers are popular organic items at Felton's.
One customer tells her friends when the store receives a shipment of organic packaged salads, Marshall said.
"They come in and buy it like crazy."
All three stores tend to merchandise organic produce together.
Sunset Foods stores display refrigerated organic produce on a 16-foot section, and misted organic product is on a 12-foot section.
The organic section is designated by a large sign, but Mastromauro plans to put up an even bigger one.
"I just ordered a sign kit to really show off and let customers know with neon signs that this is organic," he said.
A key to attracting organic sales is letting shoppers know where organic items are, he said.
"The days of just hanging a big 'organic section' sign from your ceiling is not good enough anymore," he said.
At Apple Valley Market, Easton merchandises most of the organic products together, but some that are clearly differentiated from their conventional counterparts are integrated.
For example, he displays 2-pound bags of conventional lemons next to the organic versions, since the bags are clearly marked "organic."
Organic avocados, on the other hand, are displayed separate from the conventional ones, since it's hard to tell the difference between the two types.
The store uses colored signs to distinguish between various items.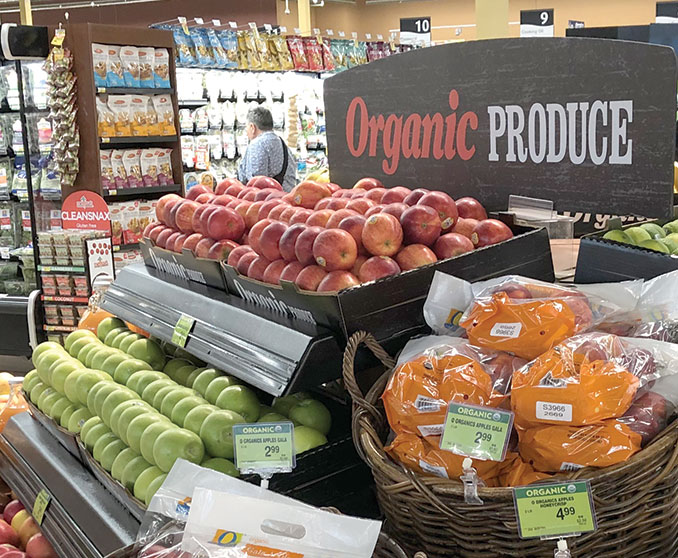 Gold signage represents organic produce, blue is for conventional, and red indicates sale items.
At Felton's, Marshall merchandises organic items together in a 6-foot section and identifies organics with a large sign.
He displays bananas on a big table with organic fruit on top and conventional bananas on the bottom.
The store's organic volume has been rising every year, and he said he believes it will continue to increase.
"It's a real, slow, slow process," he said.
---